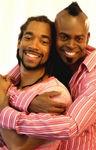 Mes chers lecteurs, si vous êtes ici c'est peut-etre parceque vous n'y croyiez pas possible d'en trouver quelque chose pareilles. Ce site es créeé avec le seul objectif de faire voir aus homophes d'Afrique que nous existons et que nous sommes entre eux, qu'ils veulent ou pas. Qu'il se rendent compte que le monde avance et il n'ya rien a faire avec ces genres de pensées sur d'autres etre humains. Ah oui, parce que etre africain et gay ne constitue pas une contradiction. S'il vous avec quelque chose a dire, je vous ecoute.
BECAUSE MY KIFE IS SO SHORT, SO I WANT IT ALL
Dear readers, if you are here it's maybe because you wouldn't like to believe that was possible in this kin of website. I created it with the main objective of showing them that Homophobia is destined to desappear in Africa as well as lots of countries, to show them that we do exist, despite they hated it. They must realised that the whole world is going ahead and won't return just beacause they stayed close-minded. Oh, yes, because being african and gay doesn't means a contradiction. If you Would to say something about it, i'm totally open.